Storm the Fort Half Distance & Sprint Triathlon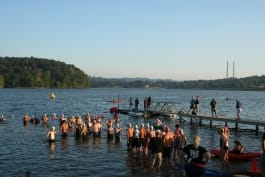 MAP IT
Anyone can now 'Race for the Cannon!'
In August, athletes gather for Race Day Events' Storm the Fort to compete in a Sprint Triathlon or Half Distance race, all on the same day. Those who finish first at the fort wins the coveted cannon trophy.
The Sprint Tri includes a 600 meter swim on Watts Bar Lake, a 17 mile bike course (fairly flat by East TN standards), and an out and back "around the Fort" 4 mile run along Kingston's scenic lakefront.
The Half Distance will really test your abilities on the same course, just much longer - a 1.2 mile wave start triangular swim course, a 56-mile bike course, and a 13.1 mile run course.
Storm the Fort Triathlon 2015 from Jim Collins on Vimeo.