DOE Public Bus Tour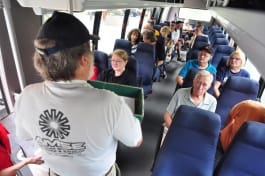 MAP IT
Take a ride through history and learn all about the Manhattan Project on DOE's Public Bus Tour. Get a glimpse of life behind the fence in America's Secret City. You'll tour Y-12's New Hope Visitors Center, Bethel Valley Church, the Graphite Reactor at ORNL, the Spallation Neutron Source, and the former K-25 site.
Bus boards from the American Museum of Science and Energy at 11:15 am, leaves promptly at 11:30 am and returns at 2:30 pm. Guide commentary provided throughout tour. Participants must be citizens of the U.S. 10 years of age and older. Seating is limited and available on first-come, first-serve basis. Some restrictions do apply.
This tour is accessible for slow walker or wheelchair users who can get up a few steps. If you plan to use a wheelchair, we encourage 48 hours of notice. The Graphite Reactor portion of the tour is accessible for wheelchairs or walkers but requires participants to traverse a 350-foot path with a 4.8% slope to get from the tour bus to the reactor.
Tour registration begins at 9:00am at the American Museum of Science and Energy. See schedule below. Tour runs once daily and leaves from AMSE at 12pm.
March – Every Monday and Friday
April & May – Every Monday, Wednesday, & Friday
(except Friday, April 14 & Monday, May 29)
June, July, & August – Monday through Friday
(except Monday, July 3 & Tuesday, July 4)
September & October – Every Monday, Wednesday, & Friday
(except Monday, September 4)
November – Every Monday & Friday
(except Friday, Nov 24)