Jingle & Mingle Market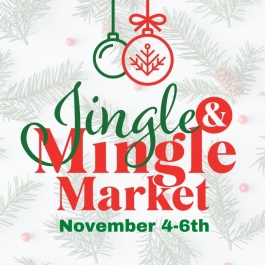 MAP IT
The Roane Chamber hosts the 3rd Annual Jingle & Mingle Market!
This year's market will be on Saturday, November 5th and Sunday, November 6th.
$2 Entry Fee
Local Vendors
Giveaways
Food Trucks
Holiday Décor
Christmas Music
Jingle Bell Bistro
The Venue at Lakeview Point will provide a spectacular venue for vendors to showcase their merchandise. For shoppers, Christmas music will get you in the holiday spirit, and after your shopping you can stick around and cozy up to a fire in the covered patio area to rest your feet! Then enjoy popular food trucks, beverages, and desserts in a bistro setting with tables and chairs on the lawn at the Jingle Bell Bistro.
This is a shopping event with local vendors and open to the public. A $2 entry fee will be charged (ages 12 & under FREE). A program with a list of vendors and a map showing all vendors will be provided to each shopper in a Jingle & Mingle shopping bag.