Smokin' the Water July 4th Festival!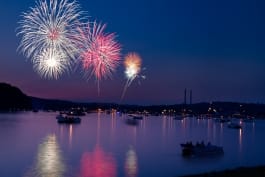 Join us as we celebrate Independence Day on the water in Kingston! Live music, food vendors, and fun for the whole family! This is a free event hosted by the City of Kingston - gates open at 2 pm.
Of course, the fireworks show over Watts Bar Lake is the highlight of the day's events but this year, the band lineup is amazing!
Johnny Neel, Grammy award winner and former Allman Brothers Band member
Royal Hounds, Nashville's Premier Rockabilly band known for their dynamic live performances
Cerisus Bright, folk rockers from Knoxville
Temper Evans Band, Roane County's favorite southern rock band
The BBQ Cookoff: the cookoff will be on July 3rd but the winners are announced at 2 pm on the big stage the day of the festival, with BBQ vendors open and ready for business during the event.
Kid's Zone: $5 arm band let's your child play all day with some of the best inflatables and games ever - bouncers, rides, laser tag, a mechanical bull, paddle cars - located at the Pavilion at the City Park. Zero gravity will also be available but is not included with $5 arm band.
Raft Races: of course this is back with more entries than ever - and now with cash prizes for winners - $175 for the "Golden Paddle" winner and $150 for 2nd place; "All Women's Crew" winner will receive $100; church youth groups could win the "Youth Group Award" with cash prize of $75; while the "Most Patriotic" wins $50.
Schedule of Events
Tuesday. July 4th
12:00 p.m. Parade
TBA Car Show
2:00 p.m. Gates Open
Kids Zone opens – City Park
BBQ Cook - Off Winners announced
Vendors Open
4:00 p.m. Homemade Raft Race – City Park
4:45 p.m. Musical Performances Begin - City Park Stage
4:45 p.m. The Royal Hounds perform
6:15 p.m. Johnny Neel (Former Allman Brothers Band member)
7:45 p.m. The Temper Evans Band
9:00 p.m. Cereus Bright performs
Dusk Fireworks (soundtrack simulcast on 106.1 fm The River)
10:00 p.m. Cereus Bright performance continued
Smokin' the Water July 4th Festival!
Jul 4, 2017
2:00pm - 10:00pm


Copied to Clipboard!