About Watts Bar Lake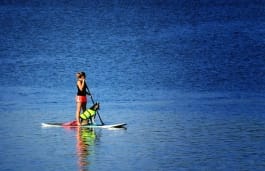 Watts Bar Lake, made up of the Tennessee, Clinch and Emory Rivers, is one of the largest lakes in the Southeast. With 39,000 acres there is plenty of space to anchor and relax in a quiet cove or enjoy the thrill of a tube or board behind a fast boat.
Lakeside restaurants offer great food, live music and spectacular sunset views. Take a trip by boat all the way to the Gulf of Mexico.
Brimming with striper, largemouth and spotted bass, and world-record-sized cat fish and crappie, Watts Bar Lake is one of the most popular fishing lakes in East Tennessee. Duck hunting is a popular sport during the winter season. You'll find it's a prime spot for birdwatching: great blue herons, osprey and bald eagles.
It is 740 feet above sea level at full pool (typically from May through October) with an average fluctuation of only five feet from summer to winter making it a perfect lake for year-round activities. Pontoon, canoe, paddelboard and kayak rentals are available at area marinas and outdoor centers.