Tennessee Medieval Faire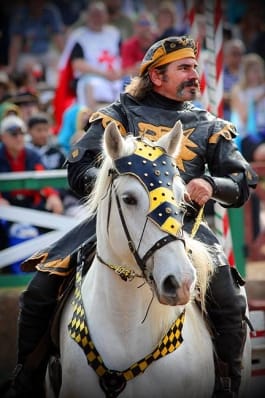 MAP IT
The Tennessee Medieval Faire is a rugged, outdoor, interactive festival set inside a recreated medieval village on the outskirts of Harriman. It is held annually in early summer. And don't miss their fall event - TN Pirate Fest - held in October.

As soon as you pass through the gates, you are transported into a magical world of fun and frolic. Stages with exciting and unusual entertainment are sprinkled throughout the medieval market for your amusement. Skilled artisans offer their creative wares; minstrels fill the air with music; colorful villagers regale you with jokes; and folk dancers invite you to join in the fun.

Just a few of the entertainers include Aaron Bonk who is known for living dangerously by juggling swords and fire; and the Steele Sisters, a nationally-known comedy sword-fighting show.

Bring your appetite and enjoy a feast fit for a king! Quench your thirst with cold beverages, including beer, by order of the royal decree!
#RoaneSong
Tennessee Medieval Faire
This event is held annually the first 3 weekends of October
Address
550 Fiske Road
Harriman, TN 37748
Phone
865-376-0319
Website
https://tmfaire.com/medieval-faire/