Abston Garage Theater & Event Center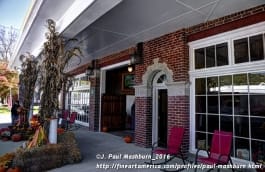 MAP IT
The Abston/Daugherty Building (c. 1915) in the center of Oliver Springs is on the National Register of Historical Places. Originally a full-service gas station, the restored building now serves as a unique venue to hold a small to medium event.
Inside, you will discover hand-turned woodwork, inlaid wood floors, a grand hallway, fireplace, stage, kitchenette, meeting room and theater with seating for 116. The building also serves as an historical museum and archives for the Oliver Springs Historical Society. For pricing and rental contact info click here.
Abston Garage Theater & Event Center
Address
301 Kingston Avenue
Oliver Springs, TN 37840
Phone
865-403-5959
Website
http://www.oshistorical.com/
The event center is run by the Oliver Springs Historical Society, a 501C3 volunteer organization devoted to the preservation of historical buildings.