K-25 Overlook and Visitor Center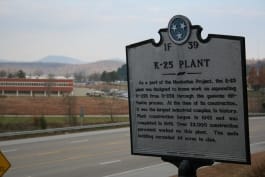 Welcome to the K-25 Overlook & Visitor Center, where the town of Happy Valley once existed! The newly refurbished center provides a snapshot of the area's historical significance through photographs. Plan to stop here to pick up brochures and information about Roane County and the Manhattan Project.
Look out over K-25 - once an important hub for activites that helped end WWII - that now is the Heritage Center business park;
Discover the Secret City and how more than 75,000 people quietly assembled to create a workforce and a town that didn't appear on any map;
Learn about the museums and historic sites to visit that are part of the Manhattan Project National HIstoric Park (MAPR); and
Enjoy recreation in the area, that includes walking and biking trails, dog park, and access to the Clinch River and Melton Hill Lake.
The center is open daily year-round during daylight hours.