Tennessee Pirate Fest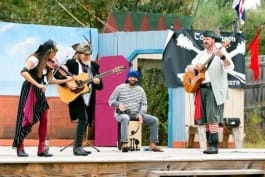 MAP IT
The Tennessee Pirate Fest will be open rain or shine on May 20-21, 27-28-29, from 11am-6pm ET!
Get Yer Pirate On! with famous British privateer, Sir Captain Henry Morgan, in Port Royal, Jamaica, circa 1674. As the new Lieutenant Governor of Jamaica, Captain Morgan is throwing a festival to celebrate his daughter's 20th birthday. All are invited—pirates, socialites, supernaturals, and even Spaniards. Captain Morgan had sacked Panama--a Spanish colony--and sent the gold to Britain after the war with Spain was over. Was Captain Morgan a privateer or pirate? Are revenge and love involved? Come and find out!
Rotating on several stages will be professional touring and local talent. New this year will be sword-fighting demonstrations and sparring games by the Society of Creative Anachronism (May 20-21), comedy sword-fighting shows by The Renaissance Men (May 27-28-29), and pirate music by Loch Morr. Back by popular demand will be interactive danger shows by The Flaming Ginger; slapstick Punch and Judy puppet shows by Professor Brent DeWitt; and music by The CrossJacks, Kris Colt the Black Rose, PanEZZ Steel Drum, Bravura Music Academy (May 20-21), and Timothy Russell (May 27-28-29).
The interactive costumed street character ensemble—the Royal Players--will seek to entertain in Kombat Kroquet, The Plot Thickens at Port Royal, Governor's Follies, Throw Me A Line, Puppet Adventures, and Captain Chester—Defender of the Caribbean. For those who like slightly spooky entertainment, Captain Davy Jones and Calypso will guide those willing on the Trail of Doom (PG)--a pirate version of A Christmas Carol.
Patrons are encouraged to dress in pirate costume and enter the Costume Contest to win a prize. All can learn to be a pirate in Pirate School or join a pirate crew by performing a talent on stage in the Gong Show. Other free games and activities will include Pirate Olympics, the mid-day parade, folk dancing, speed courting, corn hole, giant chess, and steel drum. There will also be pay-to-play activities, including axe-throwing, sparring (May 20-21), and taking photos with a mermaid or Captain Redbeard and his pyRAT.
Entrance tickets can be purchased online now here.
Looking to make a weekend of it? We can help! Click for a list of local accommodations.
Tickets are $20 ages 13+, $10 ages 5-12, and free admission children 4 and under. Festival is rain or shine. Parking is free.