K-25 History Center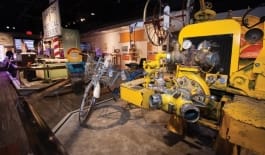 MAP IT
Step back in time and discover the inner workings of K-25 and the people who worked there, most not even knowing what they working on.
The Manhattan Project was a massive wartime effort shrouded in complete secrecy that became one of the most significant industrial, scientific, and military achievements in American history.
Located adjacent to the original foundation of the K-25 building, the museum honors the amazing stories of the men and women whose mission it was - to build the first atomic weapon before Nazi Germany and end World War II.
More than 250 original artifacts and an interactive gallery can be experienced at the K-25 HIstory Museum. There are nearly 1,000 oral histories from former employees recorded over a span of ten years that tells the story of the impact and legacy of K-25.
K-25 History Center
Monday through Saturday 9:00 a.m. to 5:00 p.m.
Sunday 1:00 p.m. to 5:00 p.m.
Address
652 Enrichment Street
Oak Ridge, TN
Phone
(865) 685-8050
Website
https://k25historycenter.org/