Gather Coffee Lounge - NEW!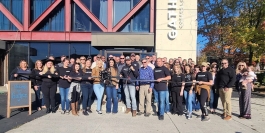 MAP IT
***Opened October 2022!***
Gather Coffee is proud to be East TN's fastest-growing, family-owned coffee business. Their mission is simple: Bring a "big city" coffee experience to the wonderful people of East TN. They want Gather Coffee to be a place for the community to come together around hand-made coffees and other goodies…all while being a social hub for the county. Their Harriman location is a full-featured coffee shop with a drive through and stay-a-while layout.