Manhattan Project National Historical Park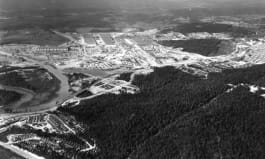 MAP IT
Welcome to the Manhattan Project National Historical Park (MAPR) located in Oak Ridge, TN, and in two other areas - Los Alamos, NM and Hanford, WA. This three-state park is one of a kind.

Learn about the Manhattan Project and how it changed the world forever. This park consists of multiple sites within Oak Ridge and there are so many fun activities and learning experiences for families and history buffs alike.
If you are coming from the West side of Oak Ridge, in Roane County, start at the K-25 Overlook & Visitor Center. Here you can get a quick snapshot of the Manhattan Project and where to visit, as well as brochures and maps to take with you. Looking for recreation close by? There are so many trails and waterways in the are for biking, hiking and more and here you will find a map showing everything there is to do outside.
Here are some of the MAPR sites to visit while here:
K-25 History Center &
K-25 Virtual Tour
DOE Public Bus Tour (postponed until further notice due to COVID-19)
Children's Museum (ranger station is here)
American Museum of Science & Energy
Learn more about MAPR: NationalParks.org
Manhattan Project National Historical Park
Check each location for times
Address
461 W. Outer Drive
Oak Ridge, TN 37830
Phone
865-482-1942
Website
https://www.nps.gov/mapr/index.htm